---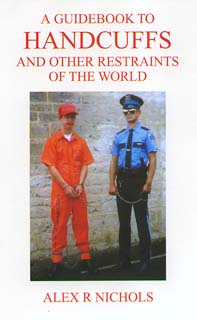 A Guidebook to HANDCUFFS and other Restraints of the World
By Alex R Nichols. This books expands, enormously, on "HANDCUFFS AND OTHER RESTRAINTS" by the same author. It is by far the most comprehensive book to date on the subject and includes a large number of photographs as well as descriptive information. Covered are all handcuffs from ALL times (starting in Biblical and Roman times through the latest to show up on the market). Highly recommended.

Send name, address and a check (made out to A.R.Nichols) or IMO for US$55.00 to:


Kingscourt Publications
The Boot Cottage, The Street, Kingscourt
Stroud, England, GL5 5DR
---
A guidebook to Handcuffs and Other Restraints of the World - Volume 2 - Supplement & Index
This wonderful book provides even more useful information to collectors of cuffs. Many pictures and descriptions will help identify most any cuff out there.
---
AMERICAN POLICE COLLECTIBLES - Dark Lanterns and Other Curious Devices
Turn of the Century Publishers; ISBN: 0966593839; (October 1998) This intriguing and meticulously-researched book examines police equipment of yesteryear. The curious will find it a readable and nostalgic link with the past. Serious collectors will find a wealth of information to identify the age, maker, history, and value of numerous pieces of equipment. The historian will find a trove of new research and original source documents including early patent drawings, advertisements, and more.
To order this book email BooksForPolice@aol.com
---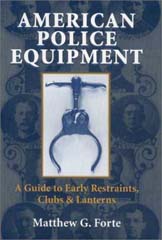 American Police Equipment : A Guide to Early Restraints, Clubs & Lanterns
Turn of the Century Publishers; ISBN: 0966593855; (August 2000) This follow-up to AMERICAN POLICE COLLECTIBLES provides detailed information about early police equipment that was manufactured and sold in this country. It is filled with new material, photographs and in-depth profiles of the individuals who invented the equipment and the companies that manufactured or sold police products. This book contains extensive photographs of common and rare pieces of early police equipment. It is filled with period advertisements as well as pages from police equipment catalogs from the 1880s through the 1920s illustrating the evolution of restraints, clubs and lanterns designed for police use. It provides insights into what it took to be a police officer a century ago, where the term "cop" came from and how American policing evolved from the British police system.
To order this book email BooksForPolice@aol.com
---
Collectors Guide * HANDCUFFS & RESTRAINTS
A small format book based on the authors extensive exerperience with collecting and dealing handcuffs and related restraints. The information consists of line-drawings of the items along with short descriptions and an estimated street price. The prices should be taken with a grain of salt, though. At the end of the booklet there is a short section with representative graphics and inventor information from the patent papers for many handcuffs.
---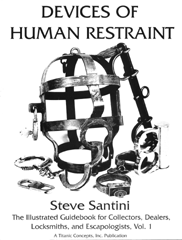 Devices of Human Restraint
A full format soft cover book detailing a rather impressive collection of cuffs. Pictures are large and detailed. Content include, for each cuff, marks used to identify the cuff, when it was likely made and where, how the lock works. A glossary is also included with a rather extensive list of terms used in describing cuffs and locks. There is also a conservative but pretty accurate price guide.

To order, please send an international money order for $18.95 U.S. plus $6.00 per book for shipping within the U.S. (International orders please send an additional $8.00 U.S. per book to cover shipping), to:

Titanic Concepts Inc.
142 7th St.
N.W., Portage la Prairie, Manitoba
Canada R1N 2L1

Please take care to ensure that all money orders are made payable to: Titanic Concepts Inc.
---
HANDCUFFS AND OTHER RESTRAINTS
Short booklet on the subject; Production values are high and text detailing history of handcuffs and other metal restraints over the years make this book a short and interesting exposition on the subject.

Send name, address and US$10.00 in cash or US$16.00 in check or IMO to:


Kingscourt Publications
The Boot Cottage, The Street, Kingscourt
Stroud, England, GL5 5DR
---
HOW TO OPEN HANDCUFFS WITHOUT KEYS
A tiny booklet detailing how to pick and shim modern ("Peerless" patern) handcuffs as well as the S&W Model 94. There is also some generally useful information on other handcuff locks. Most interesting is the text and diagrams explaining how a simple ball point pen can be used to unlock both the double-lock and the main lock of a "standard" cuff.
---
INQUISITION - INQUISICIÓN
"A bilingual Guide to the exhibition of TORTURE INSTRUMENTS from the Middle Ages to the Industrial Era presented in various European cities."
This books has not been in print for many years and is rather scarce.
---
Manacles of the World
The most complete text to date on the subject. Basically a catalog of the kinds of restraints a collector is likely to find, a picture (with scale information), some historical notes and other relavent information.
---
MODERN HANDCUFF SECRETS FOR MAGICIANS
A well done, though somewhat outdated, "how too" book on the various lock mechanisms employed in handcuffs over the years and how to defeat them. Includes many illsutrations on both the workings and general look of many cuffs. A section at the end lists ALL the patents issued in the US on handcuffs and other restraining devices.
---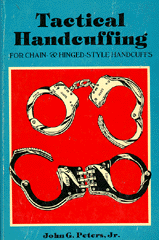 Tactical Handcuffing
A "how to" on the USE of modern swingthrough handcuffs by police forces. Of interest is the introduction which includes a brief history of shackles and handcuffs and a list of patents along with thumbnails of the associated graphic.
---

Yossie's Home Page

yossie@blacksteel.com