Anti'Scape Belt

AGGRESSORS IN TRANSIT

FORCE ANTI'SCAPE STUN-BELT
MINIMUM FORCE, NON-LETHAL DETERRENT.
IDEAL FOR PRISONERS AND AGGRESSORS IN TRANSIT.

FEATURES INCLUDE...
• LONG RANGE REMOTE CONTROL ACTIVATION, 50-100 METRES.
• 110-dB EAR-PIERCING SIREN THAT SERVES AS A WARNING TO ATTRACT AUDIBLE ATTENTION.
• HIGH VOLTAGE, NON-LETHAL, SAFE BUT EFFECTIVE SHOCK ALL ROUND THE BELT FROM ONE POINT TO ANOTHER, IN OTHER WORDS THE TOTAL BELT DOES NOT HAVE TO MAKE CONTACT ON ONE SPECIFIC PLACE.
• PRE-SET ADJUSTABLE TIMER FOR DURATION OF WARNING SIREN AND SHOCK.
• CABLES THROUGHOUT THE BELT PREVENTS IT FROM BEING CUT WITH A KNIFE.
• FULLY RECHARGEABLE COMPLETE WITH NICKEL-CADMIUM RECHARGEABLE BATTERY AND CHARGER.
• WRIST AND ARM RESTRAINTS AS WELL AS HANDCUFF RING.
• VELCRO PLUS O-RINGS ENSURES BELT TO BE LOCK TIGHT.
• UNLIKE WITH FIREARMS OR BATONS, NO PERMANENT DAMAGE OR USE OF UNNECESSARY FORCE.
• TESTED BY SOUTH AFRICAN AUTHORITIES.
• FULLY WARRANTED IN ACCORDANCE WITH THE FORCE MANUFACTURERS WARRANTY.

SPECIFICATIONS:

GENERAL

The Force Stun-Belt will be used to transport prisoners and aggressors to prevent escape to ensure protection of personnel or innocent bystanders from attacks. The product is able to deter or immobilize a prisoner or aggressor in the process of restoring order with minimum force.

ENERGIZER AND CONSTRUCTION

2.1 110Db Warning siren.
2.2 Non-lethal, safe but effective electronic shocking device with an output of +-50,000 volts and pulses of 1,4 microsecond duration at an average of less than 1 micro amp.
2.3 Activation of security system i.e., warning siren and shock are via long range remote control, 50-100 meters.
2.4 Keyswitch ON and OFF with standby light indicator.
2.5 Standby time is +-40 hours. Operating time +- 2 hours continuous activation or 900 activations.
2.6 8mm Thick and 60mm wide by 140mm long belt, made from robust webbing and covered with lasting and durable Codura material provides the basis of the belt. Added to this is the pouch, which houses the energizer box.
2.7 The belt tightens with strong seat belt bands through O-rings and Velcro for added security.
2.8 The seat belt straps also secure the upper forearm and a heavy duty ring is also fitted to- further secure the aggressor with Handcuffs.

POWER SOURCE

12 Volt 650mA rechargeable battery is supplied.

CHARGER

4.1 A single charger in robust box input 220/110 volt AC is supplied.
4.2 Test with possible recharge every 2 weeks pending use.

WARRANTY

5.1 12 Month period in accordance with the Force manufacturing warranty
5.2 Sealed removable energizer box for easy maintenance and repair.

PACKAGING

Standard packaging with carton size per product quantity and weight available on request.

ANTI'SCAPE STUN BELT
REMOTE OPERATED SHOCK STUN BELT WITH SIREN

GENERAL:

The Stun Belt will be used primarily for aggressors as a restraint to protect law enforcernent personnel against violent attacks. The Anti'Scape Stun-Belt will deter or immobilize (with no harmful effects) the aggressor in the process of restoring order with minimum force, unlike with the use of batons and firearms.

CONSTRUCTION:

Added to the basis of the belt is a pouch that houses the energizer box. The belt tightens with strong seat-belt bands through "D" rings and Velcro for added security. The belt also secures the upper forearm and is fitted with a heavy duty "D" ring through which a pair of handcuffs is fitted in order to secure the wrists of the aggressor.

GENERAL OPERATION:

A person fitted with this belt is unable to use his hands or arms due to the straps and or optional handcuffs. When the behavior of the aggressor becomes out of control, his guard presses the remote upon which a loud warning siren is activated. This serves to warn the culprit that he has only a few seconds to normalize his behavior otherwise a pre-set shock with a predetermined time (i.e. 5 seconds) will be activated through_the belt all around his waist and through his body. This painful but non-lethal shock will immediately subdue, immobilize and render the culprit harmless. Even through thick clothing, the shock will cause painful muscle contractions, similar to being shocked by the mains electricity, causing disorientation, loss of balance, mental confusion which will leave the culprit stunned and dazed for some minutes without leaving burn marks or any permanent damage. This procedure may be repeated, if necessary.

OPERATING INSTRUCTIONS:

A) Ensure that the test spark probes of the energizer box is inserted into the pouch with the press stud male and female clipped in place.
B) Secure the belt to the aggressor's waist and arms with the adjustable seatbelt straps and Velcro.
C) Set key switch clockwise to ON position indicated by a red L.E.D, which will come on.
D) Close lid of pouch ensuring that the Velcro opposites meet properly.
E) If the guard presses the button on the TX remote control, the warning siren is activated. release the button and the warning siren stops.
F) However, if the button is pressed and held for longer than the predetermined set time of 3 seconds, the shock is activated and will continue automatically for another predetermined set time of 5 seconds even If the button is released during this time.
Note: The tested non-lethal shock will arc across the press studs and travel along the entire base of the Belt through the electronic cable. This shock is not harmful to the recipient however effective enough to disorientate the aggressor without the use of normal force.
G) The built-in safety feature, warning siren, allows for the shock only to be repeated after the set time interval

CHARGING:

With the energizer box outside of the pouch, arm and activate box as per operating instructions. If the test spark is weak and slow or if there is no spark at all, connect the charger to your unit, making sure the little red globe lights up. Depending on the charged state of the built-in battery. It will take from 5-18 hours to fully restore the battery. Charging up to 36 hours will not damage the battery, however, this is not recommended as extended charging can decrease charger life.
 
WARRANTY

A minimum warranty period of 12-months in accordance with the Force Manufacturing warranty.

IMPORTANT
• The product should only be used as deterrent, for what it is designed for and only after attending training and practice.
• Do not fire the unit against other metal objects, or test the unit for more than a few seconds at a time.
• Do not activate in areas with inflammable gasses or near petrol filling stations.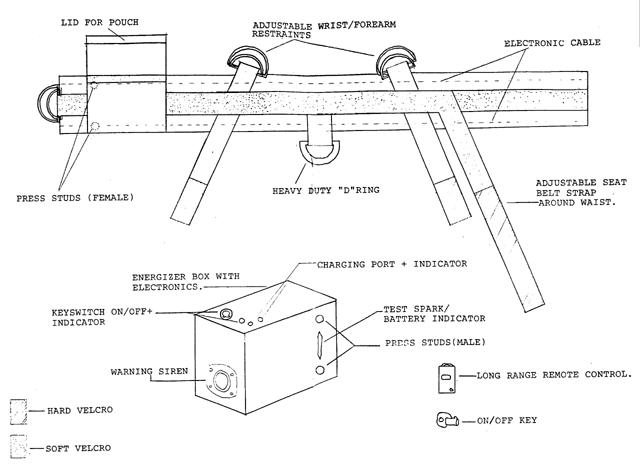 ---

Yossie's Home Page

yossie@blacksteel.com